Reshkade



Planet of Origin

Reshia

Chosen language(s)

Rezar

Designation

Sentient

Height of average adult

1.92 meters

Skin colour

Gray-ish black

Normal hair colour(s)

Gray-ish black

Average lifespan

540 years

Race(s)

Reshkade

Distinctions

Mammal
Reshkade are from the planet Reshia and are known slavers. They hunt on planets gathering both supplies for their planet and slaves, if a slave does not sell they will release them into the open planet and hunt them down for sport. The Reshkade have grown a fierceful hatred for the Celestial Parliament.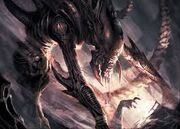 Ad blocker interference detected!
Wikia is a free-to-use site that makes money from advertising. We have a modified experience for viewers using ad blockers

Wikia is not accessible if you've made further modifications. Remove the custom ad blocker rule(s) and the page will load as expected.