Exodus

Exodus from a distance

Galactic Parameter

Empty Space

Subregion

Arcan Space

Moon(s)

Planetary Tier

T6

Diameter

79,722.3 kilometers

Atmospheric Tier

T5

Planet Type

Arctic/Oceanic

Gravitational Strength

8.73 m/s

Native Species

Egressian

Chosen Language(s)

Egressian
Capitol

Eshtergov

Population

Unknown

Demonym

Egressian

Affiliation(s)

Holy Covenant Empire Of Exodus
Exodus is a Planet well known for its odd orbital ring, mostly made of rogue asteroids and acidic gas. The orbital ring maks it hard for ships to enter, or leave the planet. It's inhabitant species - the Egressians - are a honorable, yet peaceful kind. However, when threatened, can make entire races kneel.
Discovery
Edit
Exodus was discovered by a Zenolian exploration ship in 6,910 AD, however, the ship barely made it through the orbit due to the acidic gases surrounding it. The exploration crew entered the orbit to find themselves being somewhat escorted by two ships to a much larger ship. The crew met with the inhabitants and were slightly intrigued by the Egressians' technological advancement. The crew learned much about the Egressian culture, history, and how they are able to leave the planet. After much education, the exploration crew left, with several antiques and recordings about them to be brought back to Zeno.
Not long after Exodus was found; the Rudi'em thought this was a new, and good, opportunity for land and expanding their race. The king of Rudimentum ordered an invasion on the Egressians, allying with the Garionite Republic. At first, the Egressians attempted peace and negotiation, however the Rudi'em pushed on and ended up attacking Ra Station. Soon after, the Egressians found themselves flanking the Rudi'em fleet and defeating them. Eventfully, many Rudi'em pledged their lives to the Emperor, and saw him as a new ruler, this had made the Covenant Empire Of Exodus, a multi-raced empire
Ra Station
Edit
Ra Station is an Egressian superstation that has been orbiting the planet for centuries, supporting: life, malls, and military bases, as well as much more.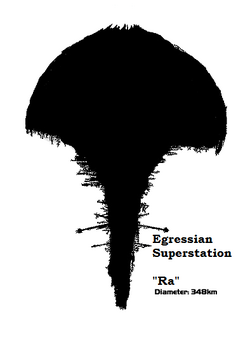 Ad blocker interference detected!
Wikia is a free-to-use site that makes money from advertising. We have a modified experience for viewers using ad blockers

Wikia is not accessible if you've made further modifications. Remove the custom ad blocker rule(s) and the page will load as expected.