Archvolvis



Galactic Parameter

Brim of the Edge

Subregion

Archvolvis System

Planetary Tier

T7

Diameter

60,797 kilometers.

Atmospheric Tier

T2 (thin oxygen)

Planet Type

Lava

Gravitational Strength

9.50 m/s

Native Species

Arachnogile

Chosen Language

Arachanii
Capitol

TeBridge City

Population

41 Billion

Demonym

Arachnogile

Affiliation

Empass Court (formerly)
The Federation of Amaranthine
Archvolvis held home to the
Arachgonile
species, an arachnid-humonoid like alien creature who were industrial manufacturers. The planet had a lava surface and was rich in mining. The currency used was Irrions, made from Irronic Geodes. The Planet was first ruled by
The Empass Court
. Following
Amaranthine's
visit to the planet, he eradicated them and assumed control with
Sigmund Vora
. The planet then became more economically wealthy than it was before, and The Federation of Amaranthine used the planet as a homeground to build their army.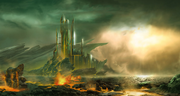 Ad blocker interference detected!
Wikia is a free-to-use site that makes money from advertising. We have a modified experience for viewers using ad blockers

Wikia is not accessible if you've made further modifications. Remove the custom ad blocker rule(s) and the page will load as expected.